SKARLET
- VI -
Neuvième jour de guerre
(vendredi 28 mars 2003)
8:23, Batignolles. Le printemps est suspendu : une couche de nuages gris. Je sors acheter des cigarettes. J'évite le kiosque à journaux. Je repense à la mère du vendeur ambulant: "Je lui ai dit de ne pas sortir, et il est mort…"
8:13 (temps universel), RFI. Une émission d'antenne libre. Deux hommes s'expriment sur les armements à uranium appauvri utilisés en Irak et au Kosovo. Le second dit que l'uranium appauvri n'est pas dangereux en soi. Un troisième: "Qui décide de la politique des USA, le Pentagone, Bush ou les industriels de l'armement?" Réponse d'un spécialiste: "D'un côté les politiques, de l'autre les militaires… Powell… Rumsfeld… le général Tommy Franks… ils sont tous branchés sur le complexe militaro-industriel américain… ce sont souvent des Texans… le pétrole… on dit que ce sera long… on demande des renforts… de l'argent…"
Je n'ai plus envie d'écrire tous ces discours, toutes ces explications, ces annonces et tous ces démentis, toutes ces dénégations…
Flash : On parle de bombardements intensifs dans les quartiers Sud de la capitale… On en parle depuis neuf jours. Et on continue de bombarder.
Je comprends avec cette guerre cette autre banalité dans toute sa dimension tragique : on parle et on ne fait rien, ou pire : on commente les atrocités humaines (trop humaines) de façon neutre, sobre, cynique, les oreilles bien dégagées. Mais allez donc séparer deux ivrognes à la sortie d'un bar, la nuit. S'ils ont décidé de se mettre sur la gueule, aucune parole raisonnable n'y pourra rien. C'est un instinct. Dr. Freud: L'instinct de mort. Dr. Hollywood: Basic Instinct…
Je mets de la musique. Du blues. Le magnétophone continue de tourner dans mon dos, la touche rouge enfoncée. Et je pense aux hobos sur les trains de marchandises…

Dixième jour de guerre
(samedi 29 mars 2003)

Nouvelle attaque sur un marché de Bagdad. - Un article de Thomas Fuller dans International Herald Tribune (daté de ce jour):
>Baghdad was rocked Friday by thunderous explosions in some of the most powerful bombardments of the Iraqi capital since the start of the war nine days ago. .An explosion at a Baghdad market killed about 50 people Friday, many of them women and children, according to medical officials in the city and news reports. .The day of bombings - including two 2,100-kilogram (4,700-pound), satellite-guided "bunker-busting" bombs during the night - were aimed at disrupting communications between Saddam Hussein's leadership and his military, according to U.S. officials. .The explosion in the market - the second time a market in Baghdad has been hit this week - came after a day when the first humanitarian aid reached the seaport of Umm Qasr, four U.S. Marines were reported missing during fierce clashes in An Nasiriyah and Iraqi militias were reported firing on civilians fleeing the southern city of Basra. .Iraqi television reported that three Iraqis spying for the United States had been captured and said that U.S. and British forces had attacked civilian areas throughout Iraq and had killed 75 people and wounded 290. .U.S. and British troops continued to meet fierce resistance throughout southern Iraq. But after more than a week of war, General Richard Myers, chairman of the U.S. Joint Chiefs of Staff, said that Iraq had lost control over 35 to 40 percent of the country. .British commanders offered a more sobering picture. A British military spokesman, Colonel Chris Vernon, said that Basra, which military planners had initially hoped would fall without much effort, was "clearly nowhere near yet in our hands." ."We have no way at the moment of getting humanitarian aid into Basra," he said. .Pentagon officials announced late Thursday that close to 90,000 U.S. troops were in Iraq, with 100,000 to 120,000 more on the way. Some will be deployed in northern Iraq, joining 1,000 airborne troops who parachuted in Wednesday night to secure an airfield. .With even routine supplies like food and water running short for frontline troops battling Republican Guard units protecting Baghdad, the U.S. Army was forced to divert its efforts to protecting its long supply lines. Fierce battles have slowed the U.S. advance at the key Euphrates River crossing of An Nasiriyah, and other fighting swirled around An Najaf and Al Kut in the Euphrates valley. .In London, the chief of Britain's army, General Mike Jackson, refused to answer a question about whether the United States had sufficient strength in Iraq, a question increasingly raised given the fierce resistance facing American troops in Iraq's major southern cities. ."The Americans have by our standards almost unlimited military capability," Jackson said. "But I am not going to say yes or no to your question because it can't be judged in that way. There may be extraordinary events over the next few days. Who knows." .Jackson said the "conventional fight with the Republican Guard" - the crucial battle with the units protecting Baghdad - "is not too far away." In Basra, about 2,000 civilians were fired on as they attempted to leave the city, according to Group Captain Al Lockwood, a British Army spokesman. ."They were fired upon and followed by what we term these paramilitary forces that are loyal to the regime," Lockwood said. .British units nearby engaged the Iraqi forces and put themselves "between the civilians and the paramilitaries," Lockwood said. British officials later said the Iraqi positions and vehicles were destroyed. .U.S. and Iraqi officials exchanged accusations Friday over reports that Iraq might be preparing to use chemical weapons. Earlier in the week, several thousand gas masks and protective equipment were found in a storeroom in hospital near An Nasiriyah. .Brigadier General Vincent Brooks of the United States said there were "indications" that "first orders have been given that at a certain point chemical weapons might be used." .But he added: "I have not seen anything that says an order has been given to fire." Iraq's information minister, Mohammed Said Sahhaf, said the chemical suits and gas masks were standard military equipment necessary because "soldiers in war should be prepared for any situation that might arise." He said Iraq would not use chemical weapons but added that a desperate enemy might. "We do not rule out that such an enemy will go hysterical and might use weapons of mass destruction," he said. Iraq's state television showed three Iraqi men described as U.S. spies. The men told a television interviewer they were paid by the U.S. Central Intelligence Agency to identify targets for U.S. planes and missiles and to scout locations where raids had already occurred. .The television showed equipment it said was found with the men, including Global Positioning System devices and satellite telephones. .U.S. defense officials said Friday that a B-2 stealth bomber had dropped the two massive bombs on a major communications building on the Tigris River in the center of Baghdad. .The strikes were apparently aimed at underground communications facilities. .The bombs went off with a thunderous explosions that rocked surrounding buildings like a small earthquake, correspondents said. .Heavy bombing continued through the day, apparently as U.S. and British jets hit Republican Guard troops in the suburbs. .U.S. commanders said the raids were aimed at cutting off the ability of the Iraqi leadership to communicate with fighters in the field. .The state television continued to broadcast with only a slight hitch in Baghdad. U.S. officials said, however, that coalition forces had taken control of television and radio in the south. .In the Kurdish enclave of northern Iraq, Kurdish troops backed by U.S. special forces troops and air support hit the mountain stronghold of fundamentalist Islamic group that the United States says has links with Al Qaeda. .After the first full first week of war, it has become clear that several reports of progress by U.S. and British troops were untrue or premature. .Geoff Hoon, Britain's defense secretary, had said Wednesday that Saddam Hussein's government had "effectively lost control of southern Iraq." But U.S. and British forces have for the better part of the week been meeting fierce resistance in the largest cities of the south: An Nasiriyah, An Najaf, Samawa and Basra. .Reports by British officials Wednesday that a "popular uprising" was under way inside Basra were played down later in the week. Officials now say the situation is confused. .It remained unclear if civilian populations in Basra were not rising up against Iraqi units in the city because they are under the thumb of a Stalinist system - as U.S. officials contend - or whether they are simply not sure who is winning the war and are thus waiting for clearer signs. The latter has been recently suggested by British officials. .In Washington, Paul Wolfowitz, the deputy defense secretary and the intellectual force behind the attack on Iraq, described ideas that the war would be a walkover as "a bit of silliness." ."A war plan is not a railroad timetable," he said. "When you make a long-distance road trip, you can't predict the weather, you can't predict the traffic jams that you'll encounter along the way, you can't predict whether your car will break down or not. You have plans, though, that anticipate those kinds of contingencies, and the thing you do know is that you will get to your destination."< (sur (sur inh.com)
La Une du Matin (d'Alger): Bush piétine...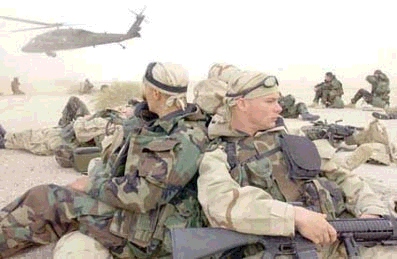 sur : lematin-dz.com
10:45. France-Info. Renfort de 120.000 hommes annoncé hier par les Américains. Un commentateur: Le problème c'est le transport de la logistique… (qui prendra) au moins deux ou trois semaines…
13:08. France 2. Reportage sur un missile irakien qui s'est abattu sur Koweït-City. Un autre sur le siège de Bassora. Commentaire: "une guerre des tranchées…" - Manifestation anti-guerre à Paris. Départ 14h, place de la Concorde. 13:27. Fin du journal. Annonce du match de rugby à 14h au Stade de France (93). Publicité.

Onzième jour de guerre
(dimanche 30 mars 2003)
9:32 (heure d'été). Batignolles. Toujours les mêmes nouvelles en provenance d'Irak. Cette répétition même signe l'impuissance de la parole face aux actes.
10:10. France-Info. On annonce 20.000 manifestants pour la paix à Paris, hier. Il y aurait eu des altercations avec des Irakiens résidant en France qui brandissaient des pancartes de soutien à Saddam Hussein. Les infos détaillent la victoire de la France sur Malte, hier soir (football). Puis ce sont les pronostics pour le tiercé. Les enfants s'ennuient le dimanche…
10:16. Titres. Les bombardements se multiplient sur l'Irak : Bagdad, Kerbala, Bassorah… La progression au sol vers la capitale est toujours entravée. - "Les pacifistes se sont à nouveau mobilisés dans le monde entier…" - Reportage sur la manifestation parisienne. Les "Irakiens de Paris" au micro: "Les Irakiens se battront jusqu'au dernier homme…"
J'entends les cloches de l'église résonner. Une messe pour Bagdad? Je zappe sur FIP. "Bien sûr nous eûmes des orages…" Un corbeau croasse sur Jacques Brel. La circulation dominicale ronronne par intermittence, comme une machine qui se rallume périodiquement. Dire que toutes ces voitures marchent au pétrole quand on a prouvé l'efficacité du moteur à hydrogène… Je bois du café. Je repense à Bert's Birthday, hier soir à Montreuil (let me say it again : Happy birthday, Bert!). C'est un journal de la paix qu'il faudrait écrire à l'intention des hommes qui se massacrent sur le terrain: Aujourd'hui, je suis heureux de vivre… je respecte cette vie (même si elle est un peu tordue)… j'en respecte les lois, les rythmes, les sensations… et je respecte les autres vies : elles ont le même droit d'existence… je ne dois pas tuer (même si je n'arrive pas ravaler ma fierté)… nous sommes fragiles (même si nous avons un armement ultra-moderne)… nous devons nous asseoir et palabrer, fumer le calumet… Nous devons retrouver notre vraie raison d'être sur cette planète unique (qui ne s'exprime pas à coups de tartes à la crème rationalistes ou théologiques)…
10:53. France-Info. On parle des dauphins (aidant au déminage du port d'Oum Qasr). Les défenseurs des animaux ont critiqué l'utilisation de ces animaux par les Américains. - Bagdad toujours la cible d'intenses bombardements (et Bassora, Kerbala, Mossoul). Un général américain reconnaît que "les combats les plus durs sont encore devant nous…" - Blair et Chirac se rapprochent dans la perspective d'un travail commun après la guerre (en Irak). - Ainsi, on parle d'avenir...
11:00. France Inter. Un nouveau bombardier B 52 a décollé d'Angleterre. - Les forces terrestres s'étirent sur plus de 300 km. On parle d'une "réorganisation du champ de bataille" (!). - 4 Américains sont morts dans une voiture piégée. "Ce n'est qu'un début", promet le vice-premier irakien. - Grève de la faim de "sans-papiers" à Paris.
11:06. RFI. Des tirs d'artillerie très fournis ont été entendus à Bassora, ce matin… - Information non vérifiée: Les forces de Saddam Hussein auraient tué plusieurs dizaines de soldats irakiens qui tentaient de déserter leurs rangs. - "Jacques Chirac et Tony Blair réapprennent à se parler… pour travailler ensemble sur l'après-guerre…"
19:13. TF1. Reportage sur la région de Bassora. Un soldat britannique: Il faut pacifier… Commentaire: La première chose à comprendre, c'est qui est qui et qui pense quoi…Voici maintenant la route de Bassora… les traces de la bataille et le son des combats qui se poursuivent… la guerre, c'est chaotique… On montre des Irakiens qui disent être des civils et qui veulent retrouver leurs familles… Commentaire: D'étranges civils… ils ne portent aucun bagage… ce sont des soldats qui veulent rejoindre Bassora pour combattre… Un homme: Tous les Irakiens sont derrière Saddam Hussein… - Reportage sur une fille enlevée à sa mère par le père…
19:26. Batignolles. Je suis allé prendre l'air. Un couple a joué du blues sur le marché à la brocante. La guerre exacerbe (merci, Sylvie!) les sentiments. Et l'indifférence, l'égoïsme aussi. Les tronches de cake.
19:45. Arte. Pilonnage incessant de Nassiriya. Nord de l'Irak : progression des peshmerga. Aviation américaine en couverture… - Manifestation anti-guerre en Espagne (base américaine de Rota)… - Tommy Franks: "Rien ne justifie un changement de stratégie…" Certains membres du Pentagone parlent déjà d'enlisement… - En Chine, quelques manifestations anti-guerre ont été autorisés. - Le SARS ("pneumopathie") a encore gagné du terrain en Asie…
19:58. France 3. Images des fortifications de Ninive (Irak). Le commentaire évoque les dommages possibles sur les sites archéologiques (destruction, pillage): "Une guerre qui oublierait que sur cette terre irakienne souffle le vent de 6000 ans d'histoire" (!)
20:00. France 2. Le journal ouvre sur le pilonnage de Bassora. Commentaire du reportage: "Bassora assiégée sans son et presque sans images" (!) - "La guerre c'est aussi une affaire de symboles…" Un soldat américain à la population: "We could be your best friend and your worst ennemy". - La présentatrice lance le "film de la journée". Commentateur: "(À Bagdad) un central téléphonique, un de plus, a reçu sa volée de missiles…" Envoyé spécial (à Bagdad): "L'Irak veut se battre et pour lui tous les moyens sont bons, notamment les attentats suicide." - Tommy Franks à propos de la situation militaire américaine face aux premières attaques de la presse (comme dans The New Yorker à paraître demain): "It's not only acceptable, it's remarkable." - L'image des civils fuyant Bassora sans rien emporter. Un général américain sur le terrain: "L'ennemi est un peu différent de ce qu'on nous avait dit." Le correspondant de la chaîne à Washington apparaît devant les flocons de neige qui tombent en ce moment sur cette ville (15:16, heure locale). Présentatrice: "Dans le Nord, de très intenses bombardements à Mossoul."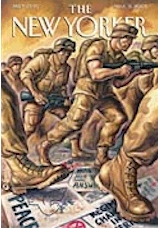 sur : newyorker.com